Sharjah completes feasibility study for LNG import project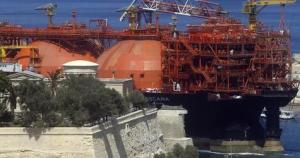 15 November 2017
Sharjah National Oil Corporation (SNOC) and Germany-based international energy company Uniper have completed the feasibility study for the implementation of an offshore Liquefied Natural Gas (LNG) import terminal in the emirate, a senior SNOC official said on Tuesday.
The project, a 60:40 joint venture between SNOC and Uniper, is designed to end the chronic shortage of gas faced by Sharjah over the past 10 years, by providing "enough capacity to supply the entire Northern Emirates and spare capacity for future," said SNOC's CEO Hatem Al Mosa at a media roundtable in Abu Dhabi.
It would comprise of an offshore Floating Storage Regasification Unit (FSRU) at Hamriyah Port with approximately 180,000 cubic metres of LNG storage volume and gas send-out capacity of up to one billion cubic feet per day (bcfd).
"We are now moving on to the front-end engineering and design (FEED) stage. The Engineering, Procurement and Construction (EPC) tender package will be floated towards the end of first quarter of next year, and the EPC contract is planned to be awarded in the second quarter [of 2018]," said Al Mosa.
The FEED is being carried out by Uniper's Technology Group in Germany.
Al Mosa said the project will become operational by the end of 2019, instead of 2018 as originally planned because the FSRU location was moved offshore, instead of onshore.
"The main reason for locating the FSRU outside the [Hamriyah] port is that it removes all restrictions on size of the FSRU and LNG carriers while preventing traffic congestion at the port," he explained.
The JV has signed a binding 10-year Gas Sales Agreement with Sharjah Electricity and Water Authority (SEWA) and a "few industrial customers" to lock in base demand that is "significantly less" than the potential regas capacity of up to 1 bcfd, said Al Mosa.
"Among the parties we have been seeking is a potential plant by the Federal Electricity and Water Authority (FEWA). Should that power plant become a reality… we are definitely offering our capacity," he said.
SNOC is one of the leading natural gas, condensate and LPG producers in the United Arab Emirates.