Sharjah National Oil Corporation and Uniper sign MOU to import LNG into UAE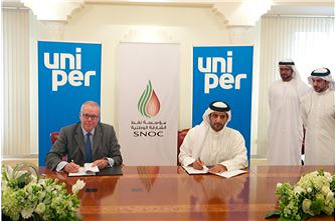 October, 2016 – Under the auspices of Sharjah Petroleum Council Sharjah National Oil Corporation (SNOC)
and Uniper SE today have signed a Memorandum of Understanding (MOU) targeting the importation of Liquefied Natural Gas (LNG) into the port of Hamriyah in Sharjah.
First gas deliveries should arrive into Sharjah in the spring of 2018. Gas will flow to the Sajaa gas field
complex and then into the existing pipeline network throughout the Northern Emirates. The natural gas will be
marketed to existing gas consumers in the region and new business seeking a reliable long term supply of
energy.